PTA
Art exhibition tomorrow, Friday 16th November 2-4 p.m.
Upcoming Events!
Art Exhibition - Friday 16th November 2-4p.m.
Mums, Dads, Grans and Grandads come along and snap up an original artwork by your very own little Picasso. Entry is free with tea, coffee and refreshments provided.
The picture framing is coming on well . . .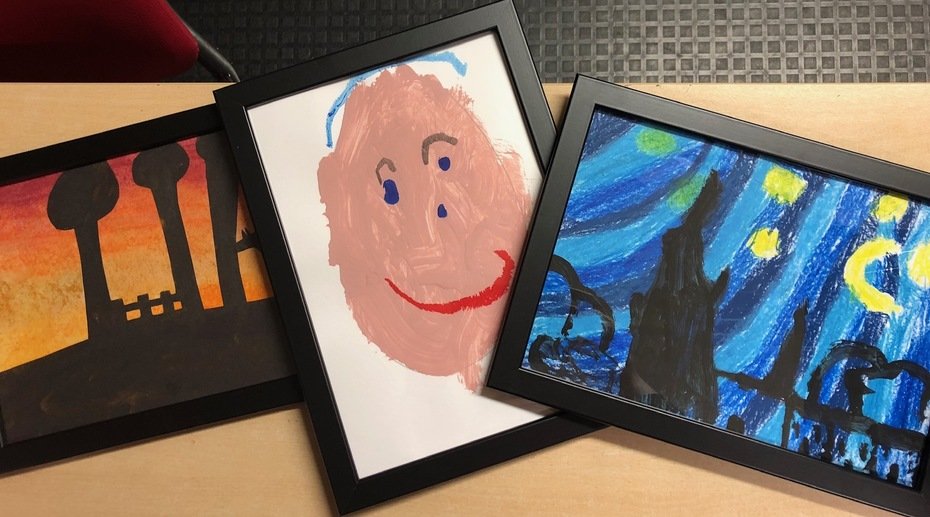 Christmas Carnival - Friday 14th December 2-4p.m.
More details coming soon!
Tesco Bag Pack - Wednesday 19th December
Could you spare an hour to pack someone's shopping and raise some money for school? Speak to a PTA member to get involved!
| | | |
| --- | --- | --- |
| Chair: Debbie Patterson | Secretary: Jennie Liggett | Treasurer: Pamela Alexander |
| Teacher: Mr Jordan | Teacher: Mrs Crangle | Member: Kerri Evitt |
| Member: Rachel Nixon | Member: Rachel Rogers | Member: Heather Taylor |
| Principal: Miss Roe | | |
Welcome to Carrowdore Primary School Parent Teacher Association. We are fortunate to have a PTA that is and has been an integral part of the school community. The PTA has raised thousands of pounds, which has been spent on equipment and resources to enhance our children's education and the school's facilities.
Our PTA is about much more than fundraising. The PTA exists to provide closer links between home and school and is an excellent way to bring staff, parents and friends together socially in support of the school, working towards a common goal.
All parents and members of the school community are encouraged to get involved, even if they only have a small amount of time available because we believe that, 'Together Everyone Achieves More'. All families are automatically members of the PTA when their child joins our school, with a PTA Committee that works on their behalf.
The PTA host events throughout the year such as:
school discos
movie nights
ballots
school fairs
We would like to express thanks to Mr Campbell Keatings, Castlebawn TESCO Community Champion who supports our school throughout the year.
Match Funding
Many companies offer employees the chance to boost fundraising by 'matching' the money they raise. Not all companies offer this but we would greatly appreciate if parents could check with their HR department if this scheme is available and let Miss Roe or a member of the PTA know. To find out more click here.
Click here to earn money for our PTA every time you shop online!