Welcome to P5
Ancient Egypt
This is our final presentation about Ancient Egypt - this time we are finding out about some of the gods and goddesses the Ancient Egyptians worshipped.
Ancient Egypt
This is the next PowerPoint to go along with your topic work booklet. This time we are going to learn how to write like an Egyptian - have fun!
Ancient Egypt
Here is the next PowerPoint to go along with your topic work booklet. This section is all about one of the most famous Egyptians Tutankhamun.
Equivalent Fractions Quiz
Try this quiz to see if you can identify equivalent fractions.
Ancient Egypt
Here is the third PowerPoint to go along with your topic work booklet. This section is all about Egyptian mummies - this part is a bit gross and P5 usually love it!
w/c 27th April
This week we are learning about volume - check out the PowerPoint below, it will help you to find the volume a shape by counting the number of cubes it is made of - you need to download the PowerPoint so the shapes are coloured and you can count them :-)
Ancient Egypt
Here is the second PowerPoint to go along with your topic work booklet.
Here is the first PowerPoint to go along with your topic work booklet. This is usually P5's favourite topic so I hope you enjoying learning all about the Ancient Egyptians. This should help you to complete the following activities:
Ancient Egyptian Artefacts

Ancient Egyptian Timeline Ordering

The River Nile
This is the link to the video from the presentation:
w/c 23rd March - Data Handling
This week we are learning about bar charts, pictograms, Venn, Carroll and tree diagrams. Have a look at the PowerPoint below to help you with this work.
Welcome to Primary Five. Mrs McDonnell teaches P5 on Monday, Tuesday and Wednesday and Miss Roe teaches P5 on Thursday and Friday.
| | |
| --- | --- |
| | |
| Mrs McDonnell | Miss Roe |
Primary Five marks the beginning of Key Stage Two and is a very busy year. We cover lots of new topics in numeracy and work with numbers up to 10000. In literacy we continue to develop our reading through work in class and Accelerated Reader and learn to apply grammar rules to our own writing.
We study a range of topics including:
Mighty Me

Bright Sparks

Amazing Australia

Natural Disasters

Ancient Egyptians
Bushfire Bake Off
Primary Five were inspired to raise money for the animals injured during the recent bushfires in Australia. The class baked lots of lovely buns for the pupils and staff and sold them on Friday 31st January.
It all started when Primary Five read a news article about an injured koala bear during their topic work on Australia. Robyn a Primary Five pupil wrote to the Principal to ask if the children could organise a fundraiser to help the poor animals they had been reading about.
Primary Five designed posters to advertise their event and baked a selection of treats including some dairy free options so everyone could be involved. The children set up the school hall and took it in turns to man the stall. The bun sale raised a staggering £122.81 which will be added to the school's weekly charity collection and sent off to Australia!
Terrific Tangrams
Primary Five had lots of fun trying to turn the 7 shapes on a tangram puzzle into animals, people and objects - can you work out what they made?
Special Visitor
Primary 5 welcomed a very special visitor today!
Bright Sparks
We have been learning all about electricity this term, our favourite part of this topic has been making circuits. We created a simple circuit to make some light up Rudolphs!
NIFRS
Thanks to Mr Orr who came along to help P5 learn all about making an emergency plan. Doesn't Alfie make a splendid firefighter?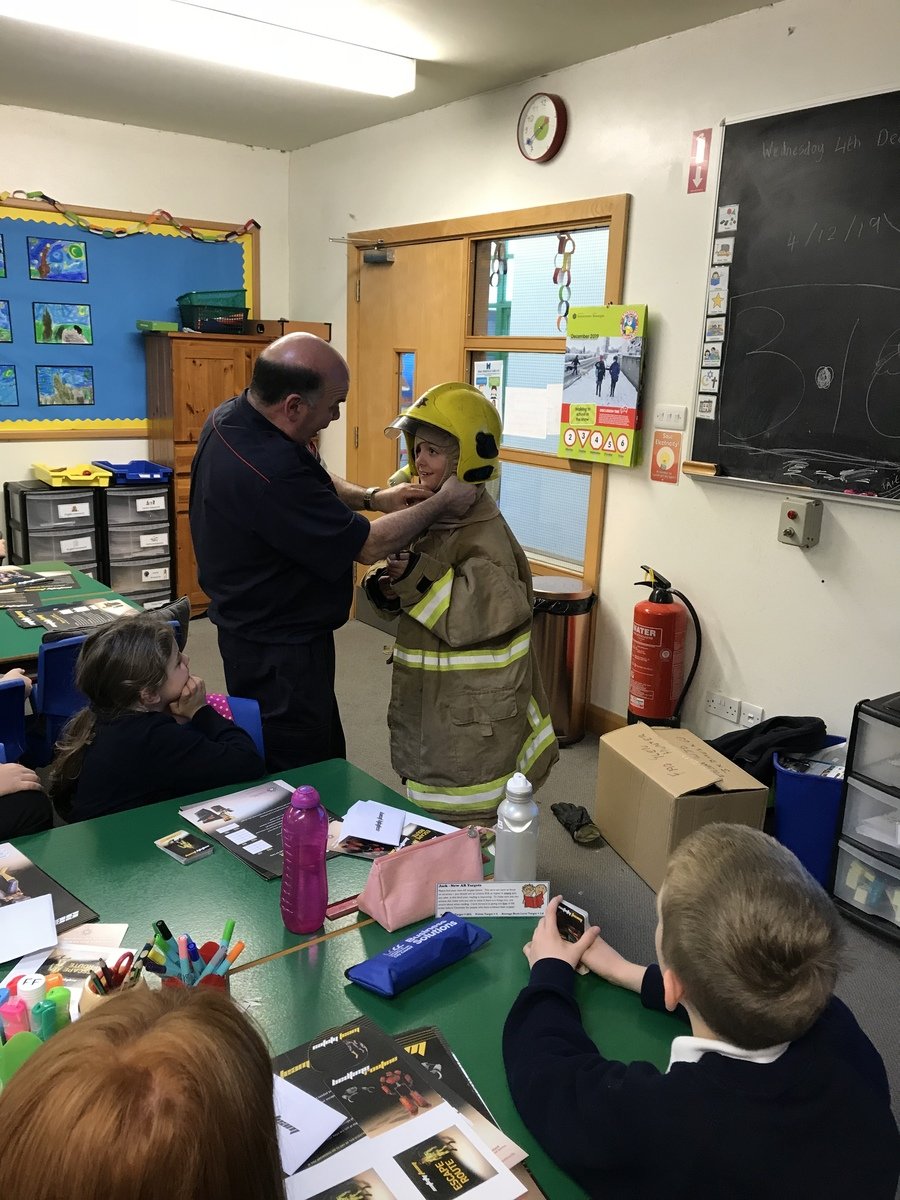 Investigators
Primary Five have been learning all about the body. They completed investigations to find out more about how the body digests food. They found out:
teeth crush and grind food to make it easier to digest,
acid in the stomach helps the body break down the food we eat,
muscles in the body get bigger and smaller to move food through the digestive system and
chemicals help us get what we need from our food.