Welcome to Primary Four
Welcome to Primary Four 2021-22! On Mondays and Tuesdays Miss Beggs is our teacher and on Wednesdays, Thursdays and Fridays our teacher is Mrs Curragh.
We are very busy learning new things, exploring, asking questions, solving problems and having fun. We start each morning by using our STEM (Science, Technology, Engineering and Maths) tubs. This helps wake up our brains and our bodies for a great day of learning.


In Numeracy we are learning how to read, write, add and subtract numbers up to 1,000, learn our times tables, use the clock to tell the time, name and describe shapes and understand different graphs and tables. We practise our skills by using Mathletics online.
We are learning how to write for different reasons and audiences in Literacy. We love reading and writing stories, poems, facts, instructions, reports and letters. You will often find a P4 in the AR library searching for a new book and talking about their favourite types of books and authors. Talking and listening are important skills in Primary 4.
The World Around Us topics include pirates, the Post Office, World War II, underground and our five senses. We love learning about our local area and wider world, about our past and how things have changed. Science experiments are a highlight of our topic work!
Our PE sessions focus on teaching skills and having fun while getting lots of exercise. We enjoy getting outside to run or walk the daily mile.
PDMU lessons are a great chance to talk about our feelings, friendships and how to stay safe at school and at home.
RE activities help us to think about decisions we make and how to treat each other based on important stories and people from the Bible and Christian church.
During ICT time we explore different apps on the iPad and use websites and programmes on the computers in the ICT suite. Face Paint, Painter 2, Mathletics, Minecraft Education Edition, Scratch Jr and Hairy Words are some of our favourites!
Throughout P4 we have lots of opportunities to be creative during music, drama and art activities. We are encouraged to use our imagination and try new ideas even if the end result doesn't quite turn out like we planned! Sometimes we learn best on our own but other times we like to have a partner or a group of people to help us learn.
Even though this year we can't meet together as a whole school for assembly, we LOVE our class assembly time on a Friday morning. We sing together, enjoy a story that has a special message and celebrate our super learning, efforts and behaviour with certificates, stickers and prizes.
Mathletics update 5/4/22
Gold 10
Silver 37
Bronze. 178
Wow! P4 love using Mathletics to revise the skills we have been learning in class. Remember that little and often makes a huge difference when trying to remember number facts and use mental maths strategies to solve problems so log in every week and aim for 1,000 points to earn your certificate!
Accelerated Reader update 5/4/22
So far this year we have read 2,210 books and 5, 863, 476 words!
We were delighted that so many children in or class SMASHED their AR targets before the Hallowe'en holidays!
But then EVERY child in P4 hit their AR target before Christmas and were rewarded with certificates and fidget poppers! We are so proud to see children reading every day, choosing to read when their task is completed and reading during golden time and morning STEM tub time. The pupils in P4 are now talking about their favourite authors, the collections and characters they love, requesting more books to be added to the library and recommending great reads to their friends.
We had a huge number of children reach their reading target for February and we LOVED the new books added to the library on World Book Day.
Our P4 Gold Mathletics certificate winners!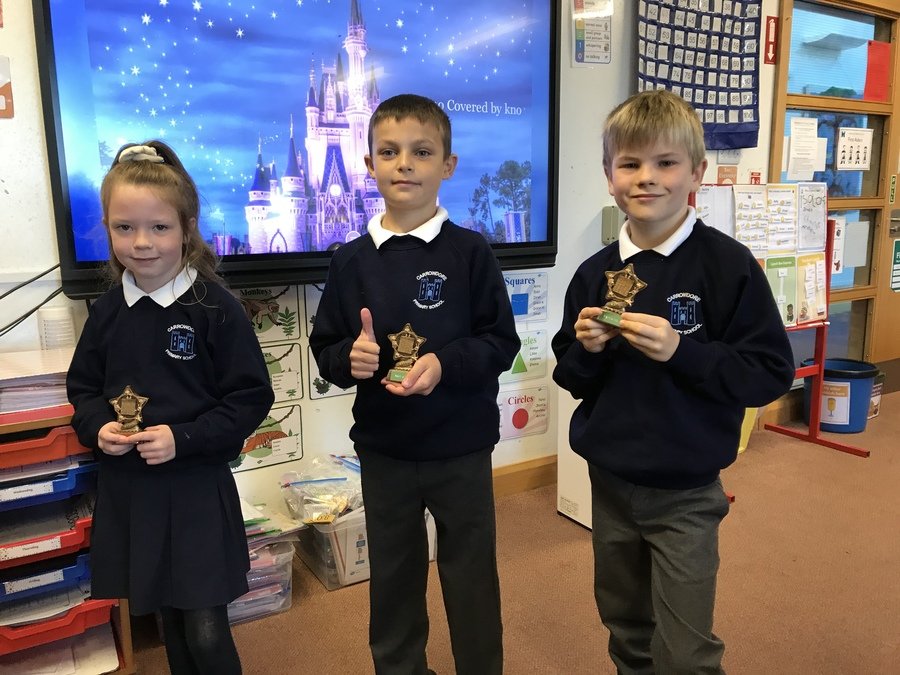 These pupils were awarded certificates because they were part of the Royal Mail's Guinness World Record for the largest stamp design competition!
P4 often use mental maths games and different practical materials when learning about numbers.
Our first WAU topic was Pirates. Check out some of our art work and science experiments!
Then we learned all about the Post Office, writing letters and some famous places from around the world.
We even wrote a persuasive letter to Miss Roe explaining why we think children should be paid to come to school. We emailed it to her but we're very disappointed when she replied and explained it wouldn't be possible. The sweeties she sent cheered us up though and we decided we still love coming to Carrowdore PS even if we don't get paid!
P4 love using the iPads and computers to create, explore, practise skills, research and record our ideas.
Our outdoor space is a great place to learn and play when we are at school.
We loved our Christmas celebrations in school - especially Christmas dinner and a visit from a pet lamb!
The children have learned so much about life in the 1940s. We read Spywatch, listened to radio reports, sang along to popular songs from this time, played traditional games and learned about the differences between life in NI now and 80 years ago. They made model Anderson shelters, sculpted clay medals, wrote letters as evacuees, designed posters, figured out coded messages and experimented with different types of paper and techniques to blackout a plastic cup.
World Book Day 2022
The pupils in P4 love books and reading! So we had great fun celebrating 25 years of World Book Day with a book themed hunt around school, games, stories, songs, treats and lots of reading.